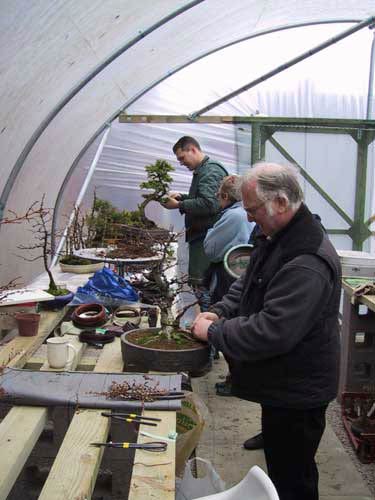 Bonsai tuition can be very helpful in gaining hands on experience with all aspects of Bonsai.  The group workshops, under the guidance of Lee, cater for the complete beginner through to the more advanced Bonsai enthusiast.
Workshops are available on weekdays or at weekends.  During the workshop there is an interval for lunch.  Tea and coffee will be free throughout the day and it is advisable to bring a packed lunch with you.
Weekdays – 10.30am to 3.30pm £– per person.
Weekends – 10.00am to 4.00pm £– per person
Once here, you can work with your own Bonsai materials or purchase some from the wide range that is available. There are Bonsai tools available for use on site but it is advisable to bring your own as there is a limited supply.
Dates Available include:
It is advisable to book early in order to avoid disappointment.  Maximum 7 people per workshop. Tel: 01322 528458 2 Taunton Close, Bexleyheath, Kent. DA7 6NN